CIHEAM Montpellier mission in Tunisia
Thierry DUPEUBLE, director of CIHEAM Montpellier, Jean-Paul PELLISSIER, deputy director, and Zied AHMED, DEVLOK project manager, went to Tunis from January 23 to 30, 2022 to meet the institutional, technical and financial partners of the Institute in Tunisia, a country with which the CIHEAM Montpellier maintains strong and long-standing collaborations in terms of cooperation, research and training.
During their stay, the CIHEAM Montpellier representatives were received, on Tuesday January 25, by Mr. Mahmoud Elyès HAMZA, Minister of Agriculture, Water Resources and Fisheries, and on Wednesday January 26, by Mrs. Leila CHIKHAOUI MAHDAOUI, Minister of the Environment.
These two institutional meetings were an opportunity to present CIHEAM Montpellier's experience in territorial development, in particular through the DEVLOK project, the results of which in terms of plastic pollution management in Kerkennah, development of alternative #tourism and creation of jobs for youth and women were highly appreciated by the two Tunisian ministers.
The duplication of the DEVLOK experience in Kerkennah on other Tunisian territories was the subject of discussions with the two ministers who underlined the interest of their department in the subjects and issues dealt with by the CIHEAM Montpellier in Tunisia.
This mission also made it possible to discuss with the Management Unit of the PAP-ENPARD program represented by Mrs. Abdelhalim GUESMI and Salem TALBI about the results of the DEVLOK project and the PAP-ENPARD program in general.
The CIHEAM Montpellier team was warmly received by the colleagues of the 'Direction Générale des Etudes et du Développement Agricole' (DGEDA) with whom we share historic collaborations in terms of territorial development and public policies.
CAPMED & SDG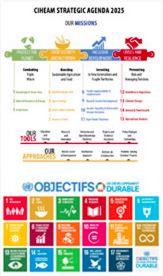 Télécharger le CAPMED