VACANCY ANNOUNCEMENT: Recruitment of a Postdoctoral Fellow NPP-SOL project
Within the scope of the NPP-SOL project, CIHEAM Montpellier offers a position of a Postdoctoral Fellow.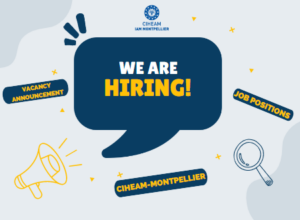 CONTEXT
The NPP-SOL is a PRIMA Section 2 project aiming to co-design and test Site-Specific Best Management Practices and Pollution-Preventing Technologies enhancing a multistakeholder participatory approach. Considering context-related needs and challenges, whether the proposed innovations are appropriate or not, and whether they can sustainably adopt the knowledge generated by NPP-SOL. The aim is to intercept and remove NPS pollutants before reaching the groundwater and surface water bodies. Technologies such as Bioreactors and Constructed Wetlands will be set up to remove nutrients and pesticides from surface runoff and/or drainage water coming from agricultural fields. Anaerobic Digestors will treat livestock slurries before spreading them to the soil.
ACTIVITIES AND
TASKS
•
Collaborate with the other partners for the collection of the necessary data;
•
Supervision
and coordination
of Living
-
hubs
;
•
Assist the coordinator in the supervision and implementation of the
Tasks
;
•
Attend the consortium meetings
.
REQUIREMENTS
The
PF
must meet the following requirements:
•
Ph.D. in Economics or Agricultural science;
•
Excellent knowledge of data analysis;
•
Knowledge
o
n Living
Hub
implementation and supervision
;
•
Excellent oral and written communication skills in English.
JOB SPECIFICATIONS
• Contract duration: fixed term contract of 12 months' renewable twice (up to 36 months);
• Part-time 50% (18h45 per week);
• Location: Mediterranean Agronomic Institute of Montpellier (Route de Mende, Montpellier,
France) with occasional travels in different partner countries.
Deadline for Submission: 30th of May 2023
Starting Date: 1st of June 2023
The application file must be sent by email with the following object " NPP-SOL Post-doctoral Vacancy" to
emploi@iamm.fr
CIHEAM Montpellier is committed to a policy of non-discrimination and gender. Position open to
people with disabilities.
CAPMED & SDG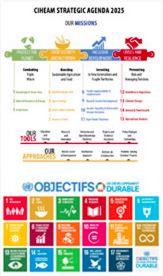 Télécharger le CAPMED