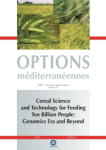 Citation bibliographique
Molina-Cano J.L. (ed.), Christou P. (ed.), Graner A. (ed.), Hammer K. (ed.), Jouve N. (ed.), Keller B. (ed.), Lasa J.M. (ed.), Powell W. (ed.), Royo C. (ed.), Shewry P. (ed.), Stanca A.M. (ed.). (2008).
Cereal science and technology for feeding ten billion people: genomics era and beyond.
Zaragoza (Espagne) : CIHEAM-IAMZ. 481 p. (Options Méditerranéennes : Série A. Séminaires Méditerranéens, n. 81). Meeting of the Eucarpia Cereal Section, 2006/11/13-17, Lleida (Espagne). Existe également en version PDF sur CD-ROM : cote P11.
http://om.ciheam.org/option.php?IDOM=382
X
Titre :

Cereal science and technology for feeding ten billion people: genomics era and beyond

Auteurs :

J.L. Molina-Cano, ed. ; P. Christou, ed. ; A. Graner, ed. ; K. Hammer, ed. ; N. Jouve, ed. ; B. Keller, ed. ; J.M. Lasa, ed. ; W. Powell, ed. ; C. Royo, ed. ; P. Shewry, ed. ; A.M. Stanca, ed.

Type de document :

Actes de Congrès ou Communication isolée

Editeur :

Zaragoza (Espagne) : CIHEAM-IAMZ

Année de publication :

2008

Collection :

Options Méditerranéennes : Série A. Séminaires Méditerranéens, ISSN 0253-1542, n. 81

ISBN/ISSN :

978-2-85352-404-9

Format :

481 p. / réf., cart., tabl., graph., ill.

Note générale :

Existe également en version PDF sur CD-ROM : cote P11

Langues :

Anglais

Langues originales :

Anglais

Mots-clés :

Catégories principales

06 - AGRICULTURE. FORÊTS. PÊCHES ; 6.4 - Production Agricole. Système de Production

Thésaurus IAMM

GENOMIQUE ; CEREALE ; EXPRESSION DES GENES ; BIODIVERSITE ; VARIATION GENETIQUE ; GENETIQUE MOLECULAIRE ; AMELIORATION GENETIQUE ; PHYSIOLOGIE VEGETALE ; QUALITE ; GRAINE ; DURABILITE ; PRODUCTION VEGETALE ; MARQUEUR GENETIQUE ; STRESS

Résumé :

At the beginning of the 21 st Century, Mankind faces the challenge of feeding a growing population with increasing demande in quantity and quality of food. Land and water resources are limited and threatened by degradation worldwide, and the previsions related to climate change seem to indicate additional incertitude on the future of the global capacity of natural resources to bear the needed production of food. Statistics indicate that it is becoming more and more difficult to increase yields sustainably and that the goal of eliminating hunger is not on the way to being met in the medium term. In this context, Genomics applied to agriculture and more specifically to cereal production has to play an important rote in the effort to balance the world's food supply and demand sustainably by developing varieties that are adapted to the different environmental conditions, make better use of inputs and that can be integrated in environmentally and economically viable agricultural systems. With the boost in advances made in Genomics and Plant Physiology since the last part of 20th century, plant breeding has evolved to a complex science, integrating molecular and cell biology and bioinformatics tools into classical selection methods. We are now in a better position to exploit biodiversity in order to efficiently develop cereal varieties that are able to produce good quality grains in a avide range of environments, under different stresses, and are adapted to different production systems. The Meeting of the Eucarpia Cereal Section in Lieida (Spain) from 13 to 17 November 2006 brought together more than 170 scientiste and technicians dealing with cereal genomics, breeding and production from 28 countries of Europe and ail over the world, to present and diseuse advances in cereal science and technology. The Meeting was structured in eight Scientific Sessions covering the following topics: (i) Biodiversity for useful genes, (ii) Integration of molecular assisted selection into conventional cereal breeding, (iii) Genetic control of limiting factors for cereal production, (iv) New concept of healthy grains for high quality food, (v) Genetics and breeding for sustainable cereal production (vi) New strategies for better understanding Bene expression, (vii) The colloquium between the genome and the metabolome to understand plant growth and development and (viii) Forecasting the future. This publication contains 113 articles and abstracts that were presented in the different scientific sessions of the Meeting.

Congrès :

Meeting of the Eucarpia Cereal Section, 2006/11/13-17, Lleida (Espagne)

Cote :

BM-I60-MOL-2008

Lien permanent :

http://www.iamm.ciheam.org/ress_doc/opac_css/index.php?lvl=notice_display&id=27626

En ligne :

http://om.ciheam.org/option.php?IDOM=382
Exemplaires (2)
| Code-barres | Cote | Support | Localisation | Section | Disponibilité |
| --- | --- | --- | --- | --- | --- |
| 17427 | BM-I60-MOL-2008 | Papier | Centre de documentation | Espace Géographique | Exclu du prêt |
| 16975 | BM-I60-MOL-2008 | Papier | Centre de documentation | Espace Géographique | Disponible |

pmb