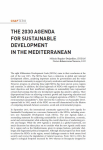 Citation bibliographique
Requier-Desjardins M., Kalamvrezos Navarro D. (2016). The 2030 Agenda for sustainable development in the Mediterranean. In : Lacirignola C. (dir.), Graziano da Silva J. (dir.), FAO (Rome, Italie), CIHEAM (Paris, France).
Mediterra 2016 : Zero waste in the Mediterranean. Natural resources, food and knowledge.
Paris (France) : Presses de Sciences Po. p. 175-189. (Mediterra, n. 15). Chapter 8.
http://www.iamm.ciheam.org/ress_doc/opac_css/index.php?lvl=notice_display&id=37201
X
Documents numériques (1)



CI160519.pdf

Adobe Acrobat PDF

pmb