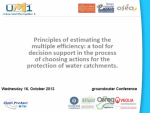 Citation bibliographique
Harbouze R., Garrabé M., Doukkali R., Le Grusse P. (2013). Principles of estimating the multiple efficiency: a tool for decision support in the process of choosing actions for the protection of water catchments. In : Groundwater foundation (Lincoln, Etats-Unis).
Tools for groundwater sustainability: working together to meet the challenges. Conference proceedings.
Lincoln (Etats-Unis) : Groundwater Foundation. p. 103-131. The Groundwater Foundation's 2013 National Conference "Tools for Groundwater Sustainability: Working Together to Meet the Challenges", 2013/10/15-17, Howey-in-the-Hills (Orlando), (Etats-Unis).
http://www.groundwater.org/file_download/inline/696b1bac-4813-4bd2-a531-71d6755f857b
X
Documents numériques (1)



PRo39119_1.pdf

Adobe Acrobat PDF

pmb