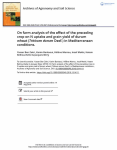 Citation bibliographique
Ben Zekri Mghirbi Y., Barkaoui K., Marrou H., Mekki I., Belhouchette H., Wery J. (2019). On farm analysis of the effect of the preceding crop on N uptake and grain yield of durum wheat (Triticum durum Desf.) in Mediterranean conditions.
Archives of Agronomy and Soil Science,
01/03/2019, vol. 65, n. 5, p. 596-611.
https://doi.org/10.1080/03650340.2018.1514111
X

pmb