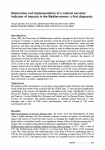 Citation bibliographique
Chazée L., Requier-Desjardins M., Ribeiro-Lopes S. (2018). Elaboration and implementation of a cultural services' indicator of impacts in the Mediterranean: a first diagnosis. In : Dehez J. (ed.), Lambert G. (ed.), Ginelli L. (ed.), Ben Hadj Abdallah K. (ed.).
The 9th international conference on monitoring and management of visitors in recreational and protected areas: abstract book.
Montpellier : IRSTEA. p. 278-280. 9. International Conference on Monitoring and Management of Visitors in Recreational and Protected Areas (MMV9), 2018/08/29-31, Bordeaux (France). Communication orale.
https://mmv9.sciencesconf.org/data/pages/last_version_abstract_book_6.pdf
X
Documents numériques (1)



PRo39448.pdf

Adobe Acrobat PDF

pmb