3MDConference: Side Event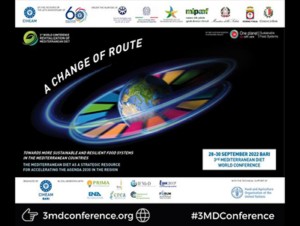 CIHEAM Montpellier participates in the Side Event organized on the occasion of the 3d World Conference on the Revitalization of the Mediterranean Diet (3MDConference) that coincide with the celebration of the 60th anniversary of the CIHEAM.
Objective:
To present a virtuous path, starting from the latest significant and tangible activities carried out by the CIHEAM institutes, to achieve future actions, all aimed at the transition towards Sustainable Food Systems.
>> Website of the 3MDConference : https://3mdconference.org/
>> Programme : https://3mdconference.org/wp-content/uploads/2022/09/Programme.pdf
The Contribution of CIHEAM to the objective of a Sustainable Food System in the Mediterranean, 28 September 2022, in CIHEAM Bari (Italy).