Supporting science
"A team of documentalists – genuine information and digital technology mediators – provides students and teaching/research staff with access to high-quality scientific information."
---
Student services
Documentary training & support
Throughout the year, the documentalists organise documentary training courses for Master 2 students and, on request, for doctoral students.
Personalised support is also available to students to provide them with targeted accompaniment in their search for information.
The objectives of these training courses are:
to identify essential sources and the different search tools;
to identify and assess the relevance, quality and validity of the information collected (develop a critical mind);
to know how to organise and manage the results of their search (managing bibliographic references): Scientific bibliography presentation guide
to organiser and automate online monitoring: of web pages, RSS flows, databases, blogs, etc.;
to assess the development of open access resources in the fields of economics and the social sciences.
On the course sharing platform, you can find all the tutorials to assist you in using the catalogue and the documentary training media provided throughout the year (restricted access).
---
Teaching/research staff services
Each Lames researcher enjoys the support of our librarians. This support can relate to bibliographical searches, document supply, support for publication in accordance with editorial requirements or the promotion of scientific productions (visibility, digital identity, synchronization of researcher profiles, etc.).
A scientific watch divided into three thematic groups:
SUSTAINABLE DEVELOPMENT OF RURAL MEDITERRANEAN TERRITORIES
AGRILOGISTICS, AGRICULTURAL ENTREPRENEURSHIP AND TRADE OF AGRICULTURAL PRODUCTS IN THE MEDITERRANEAN
DESIGN AND EVALUATION OF SUSTAINABLE PRODUCTION SYSTEMS IN THE MEDITERRANEAN, AGRI-ECOLOGICAL PERFORMANCE, DIGITIAL AGRICULTURE & AIDS TO DECISION-MAKING
A news watch presented in press reviews via the Scoop.it tool: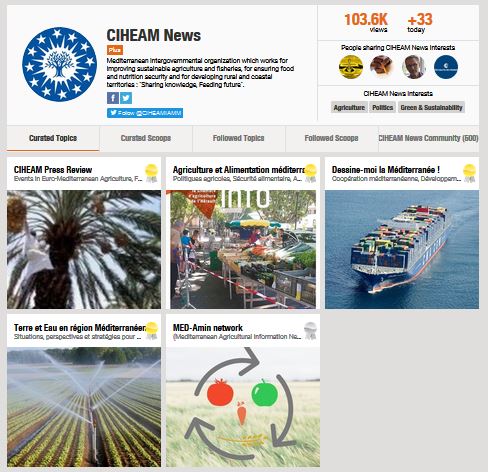 ---
Question-and-Answer service
The Question-and-Answer service provides a direct contact with the librarians, either by electronic mailbox, telephone or by appointment at the library.
A question?
Do you need to know how to access certain documents or quote a document, assess your bibliography, solve problems of mobile access to resources, learn about certain bibliographic software functions or ask for assistance?
An answer!
Our team calls on all its expertise in finding information in order to provide an answer within two working days.