Quality Approaches
Our constant concern is to measure your satisfaction and our results, and to adjust our practices in order to improve continuously. This is reflected in our ISO 9001 certification since 2008.
---
An integrated approach
Since 2008, CIHEAM Montpellier has validated its continuous improvement process by obtaining ISO 9001 certification for its quality management of on-site training. The Institute is certified for the following activities: hosting and supervising PhD students, providing master programs at the master's level, continuous vocational training and French as a foreign language training, mainly in the fields of economic and social sciences, applied to agri-food and agricultural development in the Mediterranean. Over the years, the scope of the certification has included complementary activities.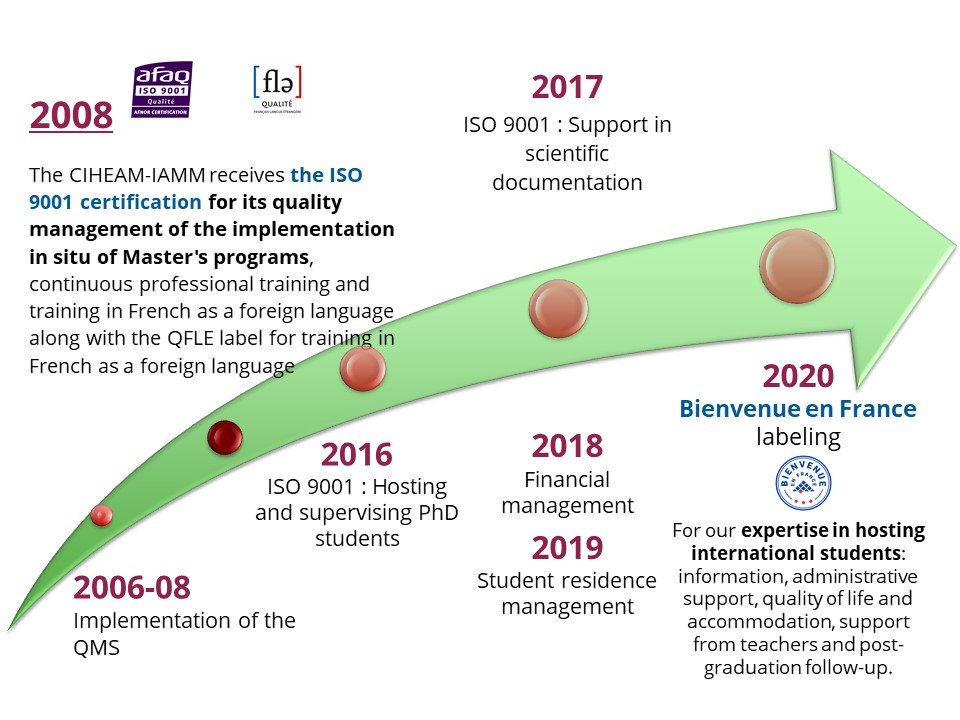 ---
Activities within the Quality scope
The quality management system (QMS) includes eleven activities working in synergy.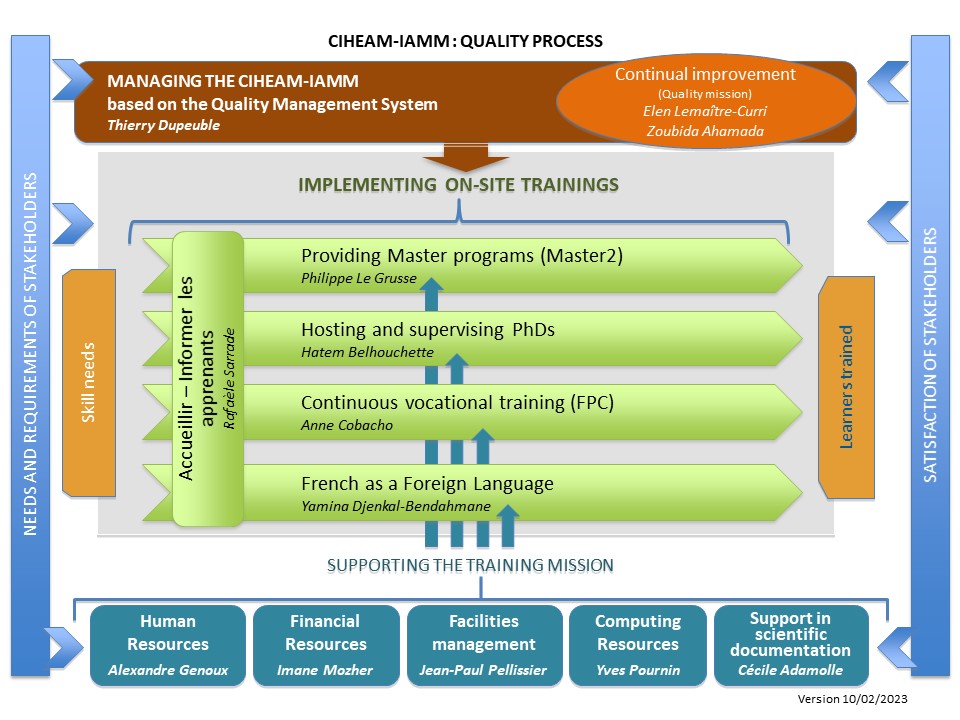 ---
The management's objectives: a framework for our actions
Our priority objectives for training, research, and development cooperation are part of the strategic directions that structure the current formulation of the Institutional Project (2023-2026). In 2023, our efforts will be focused primarily on:
OS1: Strengthening the training offerings by asserting the international dimension in recruitment and implementation, and by consolidating local anchoring.
• Experiment with certain approaches to make the Master of Science more attractive
• Continue to anchor IAMM's specific training courses in the Montpellier environment
OS2: Being more readable and visible in the specific skills we mobilize and develop, both in research and technical assistance projects for development, and in our training offerings.
• Organize 1 to 3 internal seminars in the Institute's areas of expertise
• Communicate the strategic project to our partners
• Prefigure an enlarged Mediterranean network of researchers around the issue of "Supporting decision-making for resilient and sustainable for resilient and sustainable agri-food systems in the context of the agro-ecological transition in the transition in the Mediterranean".
OS3: Being exemplary in our environmental and social practices and giving ourselves the means to be eco-responsible daily.
• Step up the implementation of the gender equality action plan and include actions in the regular agenda of
actions in the regular agenda of training activities
• Formalize clear and transparent rules for the advancement and promotion of staff, in
scientific administrators in particular
• Increase efforts to save energy
OS4: Evolving the internal organization of the Institute to better ensure the efficient mobilization of resources and expertise, and to guarantee the sustainability of the economic model.
• Redefine the organization needed to support the setting up and management of projects
• Redefining the scope of competence of the Education and Schooling Department and the profile of the post of Director of Studies
OS5: Obtaining and valorizing the delegated cooperation operator accreditation for the EU at the CIHEAM level.
• Passing the external audit
• Identify themes and/or programs on which to enhance this accreditation
OS6: Operationalizing PACMED 2025 through joint actions of the CIHEAM.
• To remain involved in working groups and joint actions with CIHEAM and its other Mediterranean agronomic institutes (Bari, Zaragoza, Chania).