A CIHEAM's delegation took part in the World Water Forum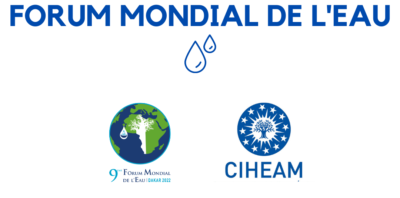 A CIHEAM's delegation will take part in the
World Water Forum
that will be held in Dakar (Senegal) from 21st to 26th March. A special session
«Territorialisation of policies: water and agroecology at the service of rural development and the 2030 Agenda»
will be organized on 22 March from 9 am to 10.30 am. This special session is organized by the
General Councils of the French and Moroccan Ministries of Agriculture, AFD
(French Development Agency, the
World Water Council
and the
French Water Partnership
, and is co-organized by the
AAA Initiative
, the
French Academy of Agriculture
, the
GID
and the
CIHEAM
.
SOIL, WATER AND RURAL DEVELOPMENT
The session follows two international meetings "on the road to Dakar", organized in October 2021: the 7th Seminar on Water and Food Security in West Africa and the Mediterranean and the Parmenides de Bari
Conference on River Basin Management in the Mediterranean
.
The objectives of this session is to :
Highlight elements of long-term vision, and, through concrete examples, the possible contents and possibilities of "building differently"
Propose policy elements implementing the levers of transition at different territorial levels.
Generate political messages that will contribute to the success of the Forum and its high-level panels.
It will bring together territorial project leaders (soil, water and rural development), academics, professional and research leaders, innovative NGOs and farmers, water resource managers, policy advisors and ministers.