EXCEL4MED project is on!
Our EU-funded project EXCEL4MED has officially launched in the best possible way, with the kickoff meeting on the 11th of January 2023 in Athens.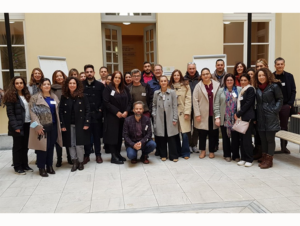 CIHEAM-IAMM was present, as the only funded French institute in the HORIZON-WIDERA-2022-ACCESS-04 call, with two Scientific Administrators Georgios Kleftodimos and Paolo Prosperi.
The excellence hub EXCEL4MED is an initiative to strengthen Mediterranean innovation excellence in innovation ecosystems focusing on the production of nutritious food products and the valorization of food industrial side-streams. It is a cross-border collaboration between Greece, Malta and France on a common strategy on strengthening the Mediterranean food added-value chains. EXCEL4MED innovation ecosystems will be interconnected with umbrella company organizations, research institutions, governmental bodies and societal actors that will be mutually reinforcing each other in a Mediterranean context and together will raise the level of innovation excellence in their regional fabric.