FIRST MEETING OF THE CIHEAM CORPORATE WORKING GROUP (CWG) ON FORESTRY
The first meeting of the CIHEAM's Corporate Working Group (CWG) on Sustainable Management of Mediterranean Forests was held at CIHEAM Bari from February 1 to 3, 2023.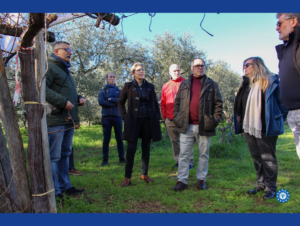 Magali Maire (CIHEAM Montpellier), Gaetano Ladisa (CIHEAM Bari), Chariton Kalaitzidis (CIHEAM Chania), Antonio Lopez-francos (CIHEAM Zaragoza) et Julio Urruela (CIHEAM Paris), focal points of the 4 institutes and the General Secretariat, met in a view to develop an action plan as part on the CIHEAM's strategy on Sustainable Management of Mediterranean Forests.
Giovanbattista Dedato, FAO Senior Forestry Expert of the Silva Mediterranea Secretariat, also attended the meeting to discuss further areas of collaboration between the two institutions.
Contact: maire@iamm.fr
🔎 Publication on the CIHEAM BARI's website