IDEON WORKSHOP: COMMUNICATING RESEARCH RESULTS: CREATING AN EFFECTIVE PITCH!
After the co-design of the first workshop entitled "Mobilising your research results in teaching-Invitation to active pedagogies" in June 2022, the CSIP and the CIHEAM Montpellier are collaborating once again to offer you an IDEON workshop, on Thursday 25 May 2023 from 1.30 to 4.30 pm at the Institut de Botanique - Université de Montpellier.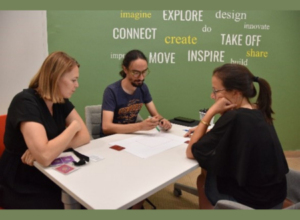 Animated by:
Brigitte Lundin, Head of the Pedagogical Innovation Support Centre,
Céline Avenel, Pedagogical Coordinator of the Centre de Soutien aux Innovations Pédagogiques.
Myriam Kessari, Teacher-researcher, CIHEAM-IAMM
We have all experienced long, drawn-out oral presentations at conferences! The aim of this workshop is to provide techniques to help you boost your scientific communication.
For whom?
teachers-researchers,
researchers,
doctoral students.
Why?
To develop your scientific communication skills,
to discover techniques to identify the "essence" of your message,
to create an effective, impactful, and interactive pitch.
Finally, the workshop will aim to discover methods you can use in writing (a paper or an article) and in the oral presentation itself, but also in your pedagogical thinking and thus transfer them into teaching situations with your students.
How do you do it?
Acquire a state of mind rather than techniques.
The workshop is based on interactivity, interdisciplinarity, and learning by doing.
In short, discover by doing and by creating together, whatever your field of research may be.
Number of participants: 20 maximum. If there are less than 9 participants, the workshop will be cancelled.
The workshops are free of charge, but registration is mandatory.
More information
Registration