LAB4SUPPLY Project – First LIVING-LAB meeting on the development of the Fig sector in the Gard
In the framework of the PRIMA LAB4SUPPLY project (www.lab4supply.eu), CIHEAM Montpellier organized the first meeting of the Living Lab on the fig sector in Vézénobres, at the Maison de la Figue, on February 14th 2023.
This meeting was supported and attended by the Mayor of Vézénobres, the Agglomération of Alès and the Chambre d'Agriculture of the Gard department.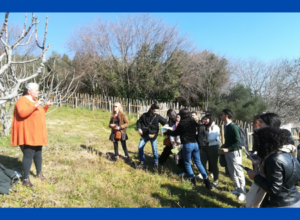 The entire sector was present at this working meeting, and farmers, producers, distributors, wholesalers, and small traders exchanged views with researchers, political leaders and decision-makers, and consumer representatives.
The objective of this first meeting was to consolidate the group of key actors in the development of the sector, to present the first results of the analysis of the sector in the Gard, to share knowledge and ideas for innovation, and to launch a debate on the assets, needs, and marketing opportunities for the fig.
Following this meeting, an action plan will be presented and the first training courses and workshops for the sustainable development of the sector will begin to take shape.
The meeting also counted on the participation of students of the Master 2 CGAT of the CIHEAM-IAMM, who for several weeks studied the different farms of the Gard, met fig growers and worked on the innovations of the sector and brought a crossed glance on the sector in the Mediterranean.
The day was preceded by a guided tour of the Vézénobres conservatory orchard and the Maison de la Figue de la main of the Centre de Pomologie in Alès.
🔎 More about the LAB4SUPPLY project
The PRIMA project LAB4SUPPLY and the development of the fig sector in the Gard and in the Mediterranean is funded by the Euro-Mediterranean PRIMA program and the French National Research Agency (ANR). CIHEAM Montpellier is the French partner.
Contact: Maite Puig de Morales (puigdemorales@iamm.fr)