MED-Amin: Newsletter #41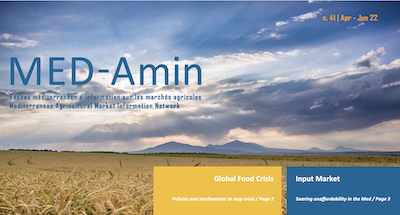 Already strained by logistical difficulties and the recovery of global consumption, international agricultural markets have reached the levels of the 2011 crisis. Several historical records have been exceeded for the prices of energy, inputs and commodities. Uncertainties as to the capacity of the "breadbasket" that is the Black Sea to supply the global market with cereals (but also with vegetable oils, fertilizers) have largely fueled this upward trend, which however seems to have calmed down in recent weeks.
Special relevance in times of crisis
If it were still necessary to justify the interest of the MED-Amin network, the conflict which broke out in the Black Sea on February 24, 2022, and its consequences on the supply of cereals in several of the Mediterranean countries, testify to the character essential part of this information network. MED-Amin was there by producing three pre-harvest bulletins in April, May and June. Thanks to the collaboration with the Joint Research Center of the European Commission and the national focal points, these Bulletins offer a follow-up of the evolution of winter growing conditions throughout the 2021-2022 campaign and make it possible to know in a glance at the harvest prospects both at the scale of the Mediterranean and of each of the countries that make up the MED-Amin network (national assessment and sub-national detail). MED-Amin is also effective in informing or even warning early on the supply capacities of Mediterranean countries and their suppliers. It provides a useful cereal production forecasting tool for operators in the sector, as evidenced by the many downloads of the MED-Amin documents produced. Given their current importance, the recent MED-Amin Bulletins also contain information relating to the input market and in particular a Mediterranean indicator on the price of inputs, developed thanks to a collaboration with the FAO. This information complements that received from the main grain producing countries during the webinar organized on June 9, 2022 in partnership with the International Grains Council.
MED-Amin Seminar
These subjects and the ambition to consolidate the early warning function of MED-Amin will be on the agenda of the 9th meeting of the MED-Amin network, which will take place on November 22-23 at CIHEAM Zaragoza, after two years of remote meetings.
Also note in your diaries:
On the occasion of the 60th anniversary of the CIHEAM, the Mediterranean agronomic institutes are organizing several commemorative events:
In Bari, from Sept. 28 to 30, 2022, on the sidelines of the 3rd World Conference on the Mediterranean Diet, CIHEAM's actions in favor of the transition to sustainable food systems will be honoured.
In Montpellier, on October 4 and 5, issues relating to the socio-economic inclusion of young people and women, as a key factor in agricultural and rural development, will be discussed.
In Zaragoza (Alicante), on October 14, the challenges of sustainable fishing and the development of coastal areas will be discussed and promoted.
>> Download the Newsletter #41
>> More information on MED-Amin Network