Mediterranean workshop for young researchers (AMJC 2022) in webinar
The Mediterranean Workshop for Young Researchers (AMJC 2022) will take place as a webinar.
Topic : « Valorization and economic development of the date sector: Analysis and perspectives »
The workshop is intended for young researchers (doctoral students and post-docs) whose research work focuses on issues related to the development of the Date sector in the Mediterranean region and whose approach is in the fields of economics, management and/or decision-support systems (economy, supply chain management, operational research, logistics, transport, intelligent information system). Beyond the academic objectives of the workshop (exchanges and critical debates on the work of young researchers), the workshop also aims to shed light on the strategies of public authorities and private operators and to promote the creation of networks of researchers around applied research concerning the sector.
Important dates:
Submission deadline extend to: February 03, 2022
Notifications of acceptance: February 10, 2022
>> Communication proposals must be sent in PDF format to: AMJC.datte.2021@gmail.com
>> For additional information, please write to: AMJC.datte.2021@gmail.com
>> Website: https://sites.google.com/g.enp.edu.dz/valueteam-project/ev%C3%A9nements/amjc-2021
CAPMED & SDG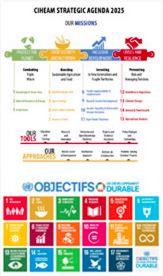 Télécharger le CAPMED