On Friday 17 March, two delegations from CIHEAM member countries were welcomed by Hatem Bellouchette and Thierry Dupeuble during their stay at the Institute.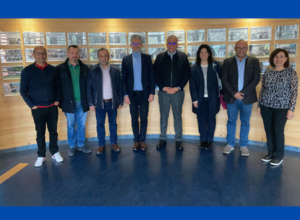 The delegation from the Lebanese University of Beirut, with whom we are co-managing the DATEM master's program, was composed of Salem Darwich, Johnny Farah, and Salwa Tohme, who came to discuss with the IAMM teaching staff the modalities of student evaluation for the coming academic years.
The second delegation came from Egypt and was composed of Prof. Ashraf El Sayed El Arabi Abdel Fattah, former Minister of Planning and current President of the Institute of National Planning (INP), and two of his collaborators, Dr. Maryam Raof Farag Rezk, Head of the Modelling Unit, and Fadi Mohamed Hisham Abdelradi Khalaf, Associate Professor in Agricultural Economics. Discussions focused on the prospects for developing scientific relations between the IAMM and the INP, particularly in economic modeling, and in contributing to the reflections of the MED-Amin network on improving the resilience of cereal sectors in the Mediterranean.