On March 1st, MR. Teodoro MIANO took up his duties at the headquarters of the intergovernmental organization in Paris
During the 151st Governing Board meeting of the International Centre for Advanced Mediterranean Agronomic Studies (CIHEAM) held at the Institut Océanographique of Paris (France) on 18 November 2022, Mr. Teodoro Miano was elected Secretary General of the Intergovernmental Organisation.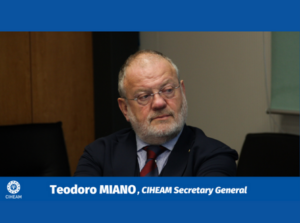 READ THE BIOGRAPHY OF MR. TEODORO MIANO
Teodoro Miano has been involved in Mediterranean agriculture, sustainable food systems, environmental protection, and agricultural development for more than 30 years.
Teodoro Miano is a Full Professor of Agricultural Chemistry at the Department of Soil, Plant, and Food Science of the University Aldo Moro of Bari (Italy). He is an agronomist and started his academic career after graduating from the University of Basilicata (Italy) in 1987. In 1992, he entered as an Associate Professor at the University of Bari, where he later became a full professor in 2001. He pursued his research in the United States, Germany, Switzerland, and Norway. Teodoro Miano has been President of the Italian Society of Agricultural Chemistry, President of the European Soil Systems Sciences Division of the European Geosciences Union, and President of the International Humic Substances Society (IHSS). He has been involved in various committees at the Ministry of Agriculture in Italy, has organized more than 50 national and international events, participated and coordinated several research projects at the local, national, and international levels, and has been involved in several evaluation committees and editorial boards of international journals. Lastly, he was also nominated Deputy Dean for International Relationships at the University Aldo Moro of Bari (Italy).
In 1996, Teodoro Miano initiated a collaboration with CIHEAM Bari, by participating in their educational programs and in research and cooperation projects. He has been a senior consultant in a CIHEAM Bari Task Force and was nominated member of the CIHEAM Scientific Advisory Board, becoming President in the second term of office. In 2018, he was selected by the Ministry of Foreign Affairs and International Cooperation to become Italian Delegate to the CIHEAM Governing Board, where he also acted as one of the Vice Presidents. On November 2022, during the 151st Meeting of the CIHEAM Governing Board, he is elected Secretary-General of the CIHEAM, taking up function from March 2023.
Born on July 24, 1959, Teodoro Miano is married and speaks Italian, English, and French.