Recruitment of a Scientific Administrator
Fields: Agroecology / Environmental Geography / Agricultural-Economics. Application deadline: 31/12/2022.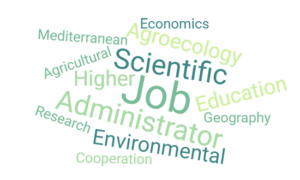 A position of scientific administrator in agroecology/environmental geography/Agricultural-Economics is opening at CIHEAM-IAMM. This recruitment is fully in line with the scientific policy that structures the training, research and cooperation activities of CIHEAM-IAMM.
Missions
The activities of the person recruited will be divided among the three missions of CIHEAM-IAMM:
Higher education
(second year of a Master's degree). They will be in charge of running the MIDAS Master's degree which will focus on "Designing innovative agricultural systems in terms of Sustainable Food Production in the Mediterranean area". In this context, the candidate will primarily teach on the subject of the "Assessment of the performance of Mediterranean agro-systems under climate and socio-economic changes".
Research and cooperation
. The candidate will have to actively contribute to the development of an international network on the job description topic, respond to international calls for projects based on applied research, research-action and development cooperation, and publish the research results in scientific journals and magazines. Moreover, the candidate will be integrated in several ongoing international projects, such as Horizon Europe (e.g. NATAE, GRANULAR, ALLIANCE) and PRIMA (e.g. AGREEMed). The position is based in Montpellier and will involve frequent trips to Mediterranean countries.
Application
The application must be written in English and include the following elements: - A CV comprising:
scientific experience, including a list of publications and research activities
teaching experience
development cooperation experience
- A dissertation on scientific work or equivalent (maximum 8 pages). - A cover letter concerning the missions defined in the job description (maximum 3 pages).
Qualifications required
Qualifications: PhD in one of the following fields: agronomy, geography, or economics. In each case a specialization in agroecology and the ability to conduct quantitative analysis at large spatial scale is required.
Sound knowledge of quantitative spatial analysis methods
Teaching experience at Master's degree level is preferable
Ability to lead and produce research and publications
Good spoken and written command of English is mandatory
Experience in terms of international tender response is preferable
Selection process and remuneration
Applications will be examined by a committee of international experts. The shortlisted candidates will be called for an oral presentation of their application. The committee will communicate their selection to the director of CIHEAM-IAMM who will in turn submit his choice to the general secretary of CIHEAM for validation by the CIHEAM Board of Directors. The candidate selected will have the status of CIHEAM-IAMM administrator with a 4-year renewable Scientific administrator contract which will start with a 6-month probationary period. The level of remuneration, comparable to that applied in French Higher Education, is set in accordance with the CIHEAM-IAMM pay scale, depending on the selected candidate's qualifications and experience. CIHEAM-IAMM is committed to a policy of non-discrimination and gender. Position open to people with disabilities.
Application deadline: 31/12/2022
The application should include a maximum of 3 electronic documents (doc, odt or pdf files) and be sent by email to the following address:
emploi@iamm.fr
>> Job description