"Trees and Forests in the Face of Global Changes: Reflections and Recommendations from the 10th PARMENIDES Conference"
Posted on November 13, 2023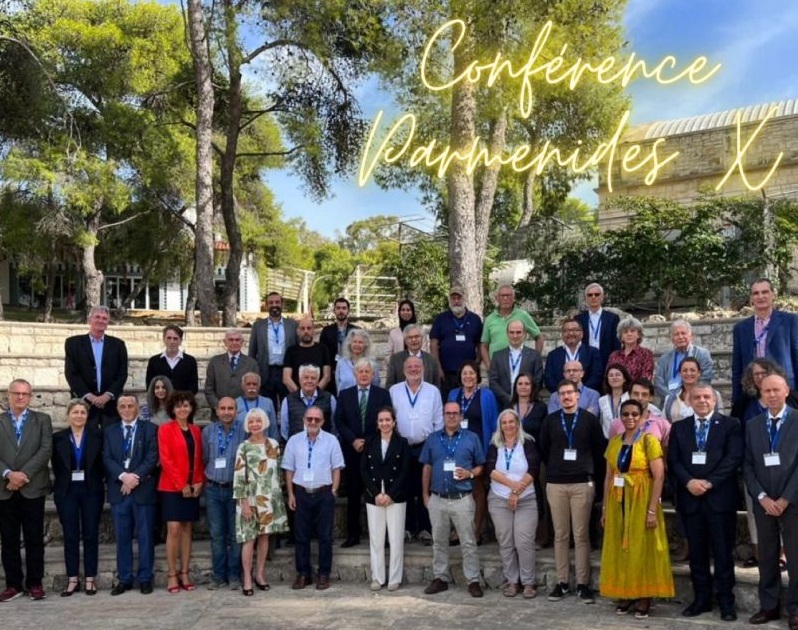 The  Groupe Interacadémique pour le Développement (GID) and the International Centre for Advanced Mediterranean Agronomic Studies (CIHEAM), with the support of the Académie des Sciences de France, the Académie d'Agriculture de France, the European Forest Institute (EFI) and the technical support of the Food and Agriculture Organization of the United Nations (FAO), organised the 10th PARMENIDES Conference at the CIHEAM Institute in Chania (Greece) from 24 to 26 October 2023, entitled "Trees and Forests in the Face of Global Change: Mediterranean Countries at the Forefront".
In a Mediterranean region marked by climate change and qualified as a mosaic in its environmental, socio-demographic, and economic dimensions, the speakers discussed three major questions: How can Mediterranean forest and tree ecosystems and their evolutionary potential be strengthened? How can we optimize their management in favor of the multiple goods and services they generate, in synergy with the agricultural, pastoral, tourism, and cultural sectors, as well as with civil society? And finally, how can we respond to the climatic and societal challenges facing Mediterranean forests?
While the challenges faced by Mediterranean countries to ensure the future of their wooded areas are considerable (degradation, desertification, wildfires, underestimated bioeconomic approach, insufficient consideration of local communities, etc.), there are numerous ongoing developments toward greater sustainability, durability, and inclusivity.
Over fifty representatives from intergovernmental organizations, academies, universities, research centers, ministries, and civil society actors called for strengthened cooperation for Mediterranean forests in the face of global changes.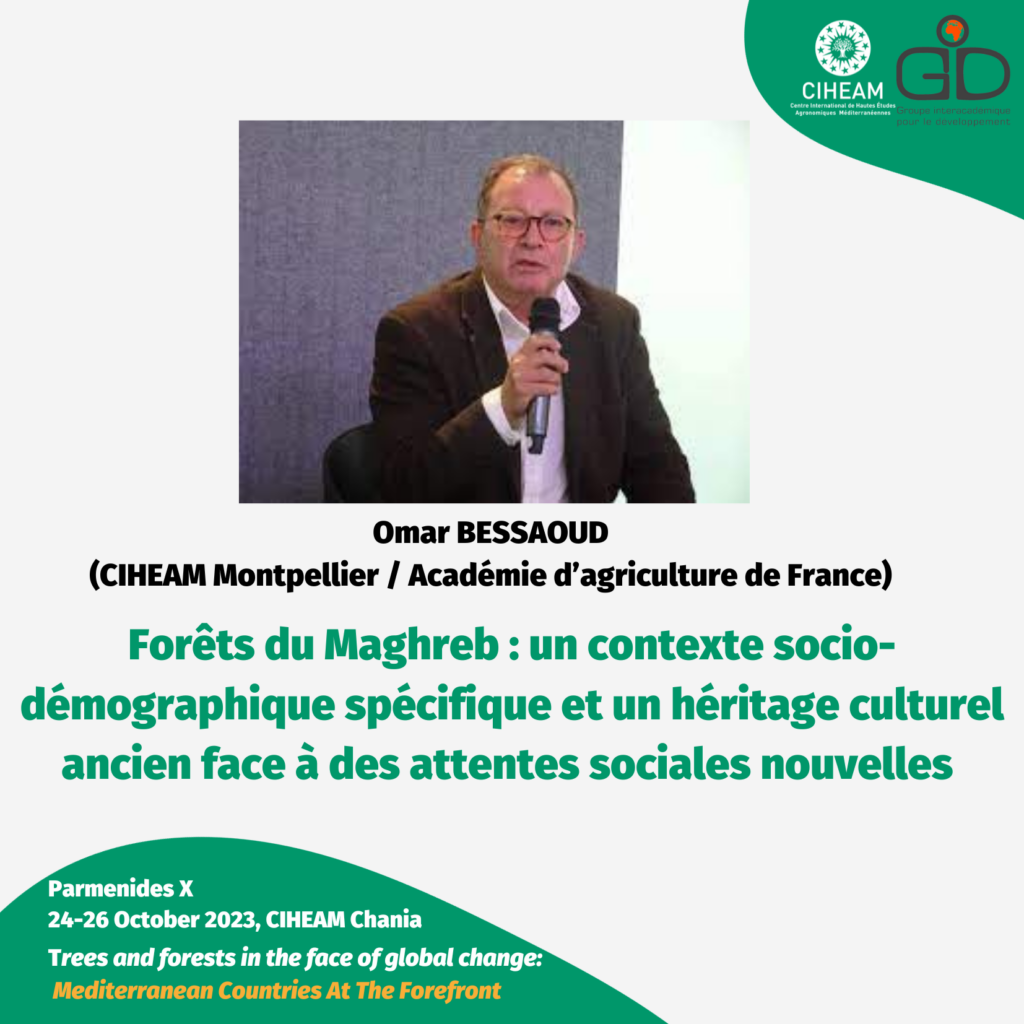 Through the example of "agdals," a collectively decided conservation practice by Berber populations in the Maghreb, Omar Bessaoud (Economist, CIHEAM-Montpellier associated member of the French Academy of Agriculture) emphasized the importance of recognizing the role and functions of village communities, relying on their culture and customary institutions.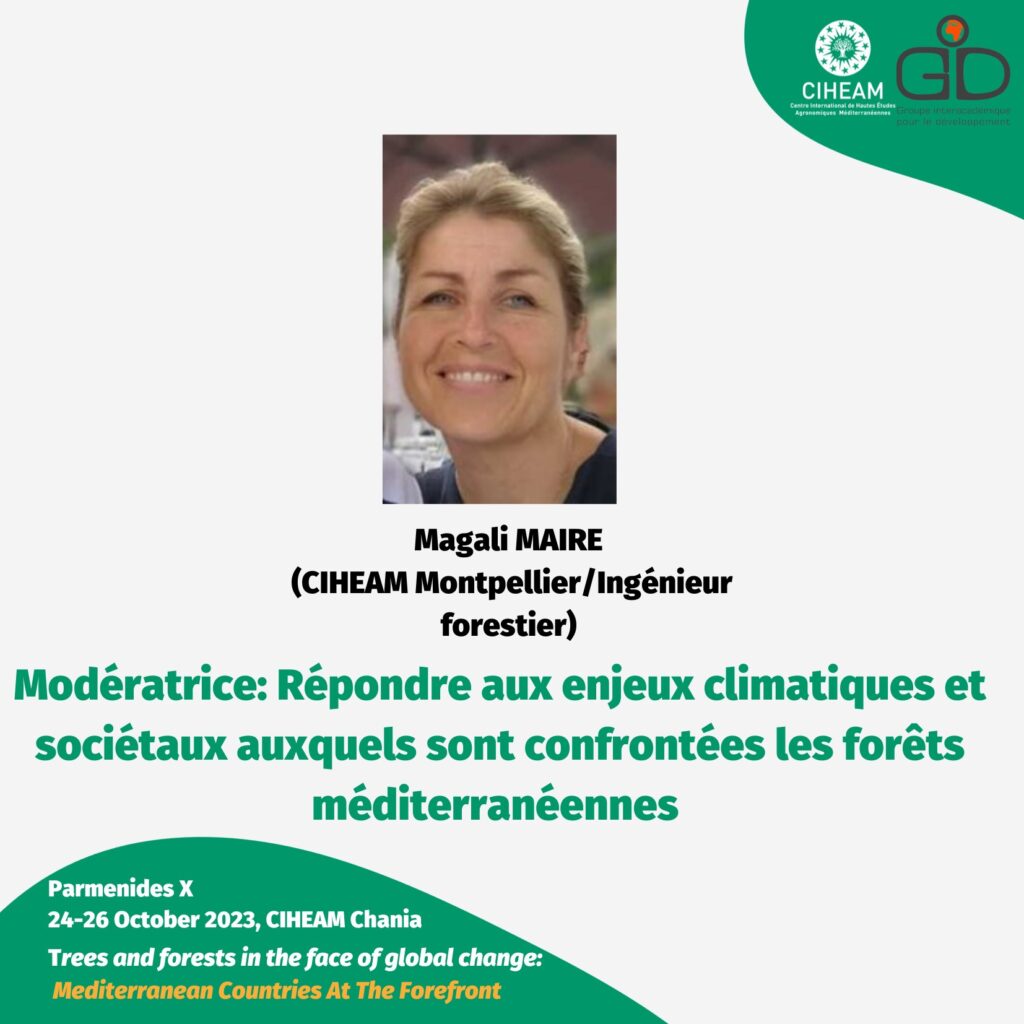 Magali Maire (forestry engineer, CIHEAM Montpellier) moderated the session: "How to address the climate and societal challenges faced by Mediterranean forests?"
The works of PARMENIDES X notably led to the following main recommendations:
-In a context of climate change where the Mediterranean forest's contribution to carbon storage is low, and where 1/3 of the value pertains to wood, it is crucial to support its adaptation process by considering its significant biological, social, and economic diversity, which is essential to deepen knowledge by enhancing data collection.
-In this context, fundamental research, applied research, and analysis of feedback from experiences must be strengthened.
-Forestry education should also be more forward-thinking and expanded to social sciences to support the necessary adaptation of forests in connection with local populations and users, with particular attention to women and youth.
- In a context of environmental crisis where increasing importance is given to forests, it is necessary to build a constructive forest-society dialogue, considering the powerful symbolism associated with forests and trees.
-Finally, it is crucial to emphasize the identity of Mediterranean forests and share these recommendations within networks of organizations present at this conference and during the Conferences of the Parties of the United Nations Conventions on climate, biodiversity, and combating desertification.
🔎 PARMENIDES X link: https://www.ciheam.org/fr/agendas/lappel-du-parmenides-x/
🔎 Find all presentations here: https://www.youtube.com/@ciheam_chania/streams
🔎 contact : maire@iamm.fr