WEBINAR – WOMEN AS KEY PLAYERS IN GREENING MEDITERRANEAN FOOD SYSTEMS: DRIVERS AND CHALLENGES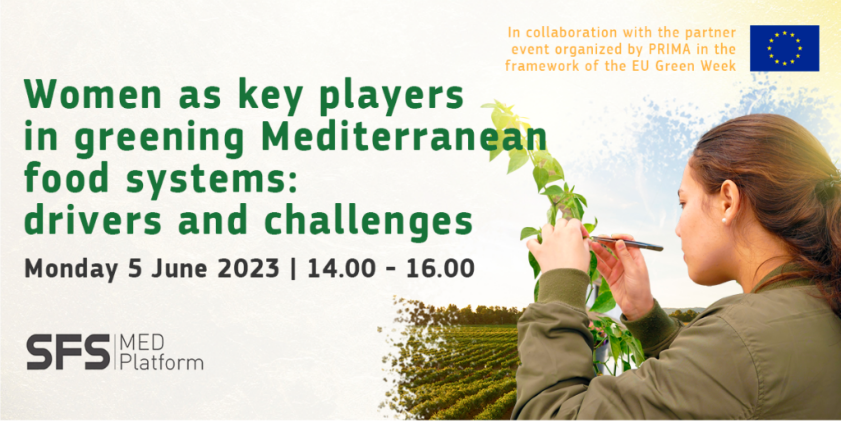 Monday 5 June 2023 | 14:00-16:00 (CEST) – In the framework of the #EUGreenWeek2023 and in collaboration with the event "Empowering Women Championing the Green Transition in the Mediterranean", the SFS-MED Platform is organizing the fifth technical webinar of a series about the levers for food systems transformation. The SFS-MED Platform is a multi-stakeholder initiative for Sustainable Food Systems in the Mediterranean co-led by the Food and Agriculture Organization of the United Nations (FAO), the International Centre for Advanced Mediterranean Agronomic Studies (CIHEAM), the Secretariat of the Union for the Mediterranean (UfM), and the Partnership for Research and Innovation in the Mediterranean Area (PRIMA).
The webinar "Women as key players in Greening Mediterranean food systems: drivers and Challenges" discusses the contribution of women to Mediterranean food systems and green transition.  
The online event will bring together representatives from governments, agri-food enterprises, researchers, international organisations and civil society organisations to discuss the necessary actions to address the persisting gender gaps undermining the potential role of women potential role and equal participation in greening food systems in the region. 
All across the Mediterranean, women contribute to food systems at multiple levels, be it as food producers, innovators, researchers, consumers, or decision-makers. As such, they can play a key role in the "green transition" of Mediterranean food systems.
However, as documented by the new comprehensive FAO report on "The Status of women in agrifood systems", significant gender gaps persist that undermine the potential of women for equal participation in the green transition. 
For example, while the market demand for "green skills" is expected to increase across the Mediterranean, many women and girls still face considerable challenges in accessing specialised male-dominated education and training (e.g. STEM or agriculture-related subjects), agricultural support and financial services, green job opportunities, and innovative and climate-smart technologies and practices. At the same time, wide gender gaps are still observed in political participation and decision-making in many countries, and more specifically in natural resource governance mechanisms, relevant policy processes and climate negotiations.
In order to achieve a green and equal transition of the agri-food labour market, investments are needed in upskilling and reskilling women in green sectors and supporting the STEM school-to-work transition. 
Gendered budgeting, sex-disaggregated data, and women's leadership in the decision-making process are among the needed changes towards more inclusive and resilient Mediterranean food systems.
If you want to hear about different ways to avoid a gender-blind green transition of Mediterranean food systems.