DEVLOK
Implementation of a participative and inclusive approach to support the maritime, agricultural and rural economy of the Kerkennah islands based on a sustainable mobilisation of the local resources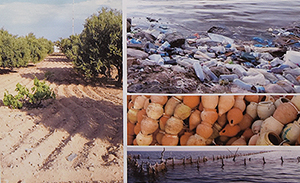 Elaboration of a local governance process in the Kerkennah Islands that ensures the inclusive dialogue between the involved stakeholders and their participation in the definition, implementation and monitoring of a sustainable territorial development strategy which takes into account the current issues of the territory.
Objective
Reinforce the maritime, agricultural and rural economy of the Kerkennah Islands by supporting economic and social initiatives that enhance the local and specific resources of the Kerkennah Islands for the benefits of the overall population.
Target Groups
Governance: local institutions, local consultative structures, development associations, professional organizations that will participate in the governance of the territory
Economic and social initiatives: professionals and professional organizations, local development organizations, projects leaders, business support structuresui aux entreprises
Activities
To reach its objectives, the project is implemented in five steps including capacity building, training, support to public and private initiatives, monitoring and evaluation:
Step 1 – Elaboration of the management processes (methodology and planning of actions)
Step 2 – Creation of dialogue forums and reinforcement of the participative processes (elaboration of the local governance process)
Step 3 – Joint elaboration and validation of the territorial development process (ensure that the process is in line with the already existing, public or private, territorial development interventions)
Step 4 – Identification, selection and support in the implementation of the social and economic initiatives carried out by the private or public stakeholders (implementation and monitoring of the territorial strategy)
Step 5 – Capitalization and valorisation of the project achievements
Results
A Local Development Committee (LDC), an operational forum for dialogue and for a collective management of the project
500 people from the Kerkennah Islands have an increased awareness of the development challenges of the territory and regularly participate in the dialogues and coordination meetings
100 local stakeholders (public, private, development organizations, civil society) have reinforced their capacities in the fields of inclusive and participative processes, territorial and local planning, economic development
A territorial project, which integrates both the needs of the local population and the national strategic orientations, is elaborated and officially approved
40 economic and social projects, in line with the territorial project, are supported in their long-term establishment
The partnership with the European development organizations is dynamic and adapted to the needs of the territory
The national and European public institutions promote the achievements of the project in their policies.
More information
Contacts :
Jean-Paul PELLISSIER - CIHEAM-IAMM - pellissier@iamm.fr
Zied AHMED - CIHEAM-IAMM - ahmed@iamm.fr