MEDFEST
Mediterranean Culinary Heritage Experiences: how to create sustainable tourist destinations?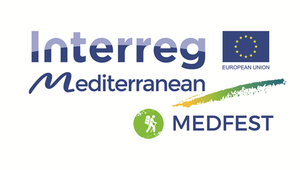 MEDFEST is tackling the challenge of diversifying traditional 'sun & sea' tourism destinations, with new and sustainable products based on the rich and renowned culinary heritage of the Mediterranean.
This approach is unique because Mediterranean culinary heritage initiatives are generally unconnected and to this day there have been only few common approaches developed to integrate this culinary heritage into a sustainable tourism offer. The methodology in MEDFEST is based on participatory action planning, where three main types of stakeholders (producers, tourism organisations, policy makers) are involved and take responsibility for the project's actions from the beginning till the end to ensure the sustainability of the results.
Objectives
MEDFEST's general objective is to create or improve existing strategies related to sustainable tourism development within the traditional Mediterranean small-scale culinary sector.
The project aims at creating tools and instruments for designing new sustainable and alternative culinary experiences, which will be offered to visitors.
Activities
Create tools for enhancing sustainable tourism destinations by using culinary heritage as a resource;
Foster the creation of eight new sustainable tourism destinations in the Mediterranean area;
Develop a common transnational strategy on managing and planning culinary tourism in the Mediterranean area.
Results and impacts
Increase the tourism sustainability and quality of life in the Mediterranean area;
Diversify the tourism sector in terms of products and seasonality;
Extend tourism development to the rural coastal hinterland;
Safeguard the Mediterranean culinary heritage for future generations.
More information
Source of funding: Programme InterReg Med/ fonds UE FEDER
Contacts:
David BOLE, coordinateur, ZRC-SAZU, Slovenia, david.bole@zrc-sazu.si
Fatima EL HADAD-GAUTHIER, Teacher-researcher, CIHEAM-IAMM, France, elhadad@iamm.fr
Total budget: 2 218 473 €
Partners:
Research Centre of the Slovenian Academy of Sciences and Art (ZRC SAZU) - Slovénie
Associazione Svilupo Rurale (ASR) - Italie
Ecole d'Ingénieur de Purpan (EI PURPAN) - France
Université de Barcelone (UB) - Espagne
Associação In Loco - Portugal
Agence pour le développement rural de l'Istria Ltd. (AZRRI) - Croatie
Technical Institute of Heraklion Chamber (TIHC) - Grèce
Τroodos Network Thematic Centers (DITHEKET) - Chypre
CIHEAM-IAMM is part of the 11 additional associated partners - France