SUPMED
Collective and contextualized strategies to promote resilient and sustainable agricultural production in rural Mediterranean areas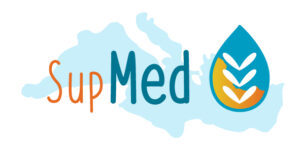 Réduire d'une façon structurelle et durable la surexploitation des ressources hydriques et à améliorer le revenu des ménages agricoles au Liban et en Egypte dans un contexte de changement climatique.
Proposer, mettre en œuvre et évaluer des initiatives intégrées, agronomiques et socio-économiques, basées sur l'agroécologie afin de réduire la dépendance à l'eau de chacun des territoires. Ces initiatives seront concertées avec les acteurs et adaptées au contexte des deux territoires ciblés: la Plaine de Beqaa au Liban et le Gouvernorat de Louxor en Egypte.
SupMed vise l'adhésion d'au moins 400 agriculteurs par territoire à une charte volontaire pour la mise en œuvre de stratégies d'adaptation basées sur des pratiques agroécologiques.
Au niveau institutionnel, le projet contribuera à renforcer et mieux structurer, en termes de conseil agricole, le partenariat public-privé au niveau des deux pays.
Il s'agit principalement de capitaliser autour de cette expérience de partenariat et de formuler des recommandations pour les prochaines politiques agricoles. Ce travail de capitalisation sera d'autant plus important que le projet contribuera (au moins partiellement) à l'élaboration des prochaines politiques agricoles nationale (Liban) et régionale (Egypte).
More information
Source of funding
Fond Français pour l'Environnement Mondial
Plan Vert (Ministère de l'Agriculture), Liban
Executive Agency for the Comprehensive Development Projects, ministère de l'agriculture (EACDP), Egypte
CIHEAM Montpellier, France
Egyptian Association for Sustainable Development de Louxor (EASD), Egypte
Centre Agricole privé de Hermel (FSC), Liban
Programme and contact references
Partners
Le CIHEAM Montpellier: Institut Agronomique Méditerranéen de Montpellier, Coordinateur et co-financeur du projet, assure la maîtrise d'ouvrage et la coordination scientifique.
Partners in Lebanon
Le Plan Vert et le projet HASAD, cofinanceur et membre du comité de pilotage SupMed
Le Centre Agricole Privé de Hermel, Maitrise d'œuvre du projet SupMed sur le terrain
L'Union des municipalités de Baalbek-Hermel et l'Union des coopératives de Hermel, Membre du Comité d'appui du projet SupMed
Le Ministère de l'Agriculture, Membre du comité d'appui SupMed
La Faculté d'agronomie de l'Université libanaise (Département d'Économie Rural), Membre du comité d'appui SupMed
Partners in Egypt
Executive Agency for the Comprehensive Development Projects (EACDP), Cofinanceur et membre du comité de pilotage Supmed
Egyptian Association for Sustainable Development (EASD), Maitrise d'œuvre du projet SupMed en Egypte
Le Centre d'études de développement rural (Université du Caire, Faculté d'agronomie), Membre du Comité d'appui du projet SupMed
Le Département de statistiques et de développement agricole et rural du Ministère de l'agriculture égyptien, Membre du comité d'appui SupMed