ALUMNI MEETING AT THE CIHEAM ZARAGOZA FOR THE INSTITUTE'S 50TH ANNIVERSARY
Press release,
Zaragoza, Spain, 4 October 2019
The Mediterranean Agronomic Institute of Zaragoza (CIHEAM Zaragoza) put together a very special day on Friday with an event that brought together more than 200 students from 24 countries for events organised in honour of this year's 50th anniversary of the Institute´s founding. In addition to Spain, participants came largely from Latin American countries, Europe, and North Africa.
The event featured Plácido Plaza, Secretary General of CIHEAM (International Centre for Advanced Mediterranean Agronomic Studies), an international organisation based in Paris which comprises 13 member countries, and of which CIHEAM Zaragoza is a part; Joaquín Olona, Minister of Agriculture, Livestock and Environment for the government of Aragón; and Javier Sierra, director of the CIHEAM Zaragoza.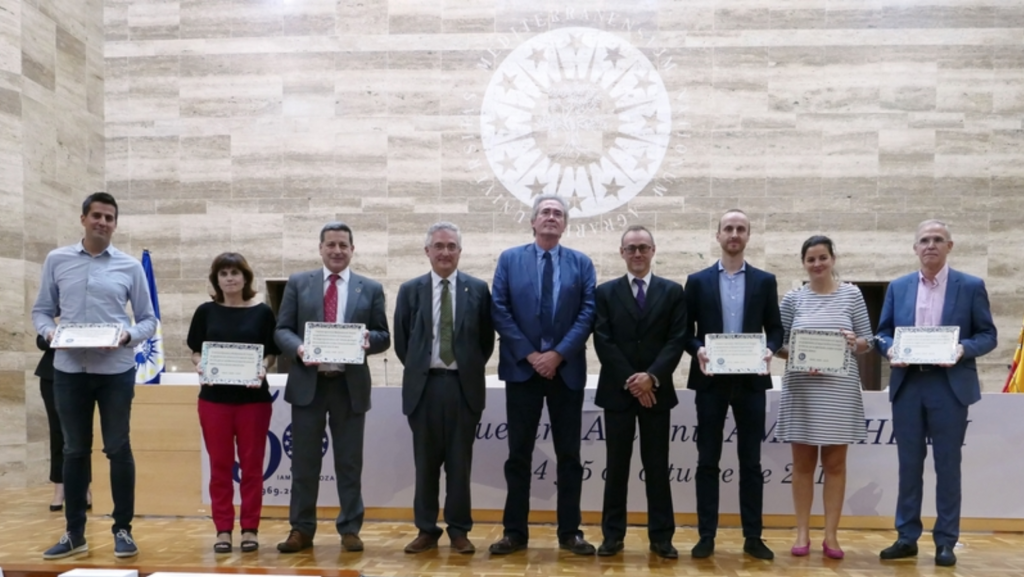 It was a day of reuniting and remembering in which former CIHEAM Zaragoza directors Miguel Mut, Miguel Valls, Luis Esteruelas and Ignacio Romagosa spoke about their experiences at the helm. Following that, José Manuel Moreno, Dean of Ecology at Castilla-La Mancha University and member of the Intergovernmental Panel on Climate Change (IPCC) at the United Nations, gave remarks on scientific agreement surrounding climate change.
The Institute of Zaragoza was founded in 1969 on the campus of Aula Dei in Montañana by Ramón Esteruelas, from Aragon who was also a driving force behind the creation of CIHEAM seven years earlier, based on the need to create structures to encourage technical progress and prosperity after WWII and promote institutions in the emerging European structure.
During the ceremony, awards of recognition for continued collaboration with CIHEAM Zaragoza were given to the directors of the other 6 centres, which work for various public administration offices, that operate on the Aula Dei campus.
More than 15,000 well-prepared leaders
More than 15,000 young leaders in the agro-food sector from Mediterranean and Latin American countries have studied at the Agronomic Mediterranean Institute of Zaragoza over its 50 year lifespan. The Institute has offered more than 400 advanced courses taught by more than 1,000 experts and professors from universities and research centres from all over the world. Moreover, the Institute has established partnerships with more than 60 national and international organisations.
The CIHEAM Zaragoza is one of the four institutes that comprise the International Centre for Advanced Mediterranean Agronomic Studies (CIHEAM), headquartered in Paris, together with the institutes in Bari (Italy), Montpellier (France) and Chania (Greece).
The CIHEAM Zaragoza is a centre of excellence which offers advanced continuing education and postgraduate courses with a consolidated programme that relies on cooperative resource networks and coordinates international projects.
Nowadays, it represents an international paragon of high-quality and excellent programmes in the Mediterranean agro-food sector. At present it offers 7 master's programmes and every year organises 10 advanced courses, summer courses and workshops that take place over several days.