PROMOTING BUSINESS COLLABORATION AND INNOVATION IN TOURISM AND NUTRITION
6 September 2019, Chania, Greece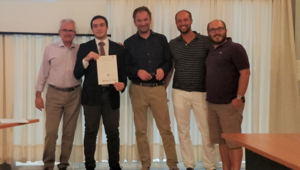 Twenty-three (23) students of the Italian Institute stayed at the CIHEAM Institute of Chania facilities for two months since July 16th and completed their apprenticeships in hospitality, tourism and catering businesses in Chania, with the aim of acquiring professional qualifications and knowledge through exposure in a real work environment.
This project builds on the synergy of the social partners and in particular academic institutes and businesses, focusing on and enhancing the extroversion of the participants while undoubtedly contributing to the exchange of good education and training practices. In addition, enhancing participants' experiences, acquiring qualifications through mobility and flexible learning are key objectives of the European Union's "ERASMUS +" project funded by the EuPROSkills project.
The CIHEAM Institute of Chania would like to thank once again the tourism and catering businesses of Chania Prefecture, namely "Theo Hotels" in Agia Marina, "Okeanis Golden Resort", "Golden Bay Suites", "Helios Apartments" and "Kiwi Apartments" at Agioi Apostoli, "Panorama Hotel" in Kalamaki, "Halepa" and "Kydon" in the city of Chania, as well as catering companies in the Old Port, who participated in the project as "host organizations" to implement the apprenticeship. The aforementioned companies, some of which are involved in similar projects for the fifth consecutive year, functioned as quality apprenticeships and worked seamlessly with their students and their apprentices from Italy, contributing to a safe and highly successful apprenticeship program.
In addition, CIHEAM Chania thanks all the bodies (Directorate of Health and Social Welfare, Urban and Intercity Buses of Chania, etc.) that contributed to the smooth implementation of this project.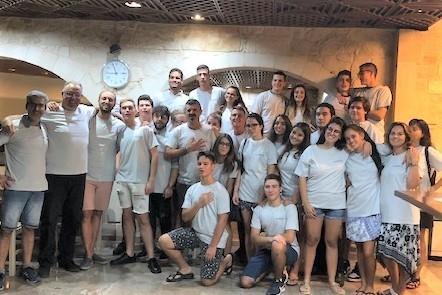 At the awards ceremony on Friday, 6 September 2019, the attendees thanked the Institute for inviting them to participate in the project, while students and business representatives expressed their satisfaction with the work completed. Proof of the absolutely successful and constructive cooperation of all parties was given by the presence of representatives from all the companies involved in the project. The latter referred to the morale, courtesy, willingness and ability of the students, and their ability to fully handle the tasks assigned to them in a difficult and highly demanding professional environment.
We wish upon everyone the opportunity to participate in similar projects in the future, and in general to create opportunities for tourism businesses to act as innovators in the field of apprenticeships.