MED-Amin: added value and innovation
The added value of the MED-Amin network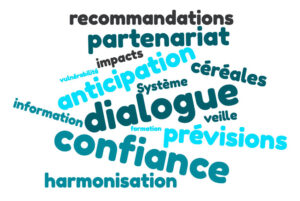 The development of cereal balance sheets (supply/demand) following international standards constitutes a solid basis for short-term forecasts that help guide policies in a coordinated manner, anticipate food crises and potential social instability.
Since early 2022, at the request of member countries, the network has been reflecting on the further development of an Early Warning System intended to reduce the risk of food insecurity in/for the Mediterranean region. Building on a group of high-level experts and two case studies in Tunisia and Lebanon (CIAP project), this initiative should allow to:
Identify strategic information
Develop partnerships
Gradually implement a Mediterranean early warning system.
Assets of MED-Amin
Through dialogue and trust, MED-Amin network brings together countries which usually position themselves on the grain markets on an individual basis. Alongside net exporters such as France, Turkey or Spain the network gathers world-leading grain importers such as Egypt, Algeria and Morocco.
In 2022, the conflict in the Black Sea and its direct repercussions on the food security of Mediterranean countries and populations confirm the importance of the MED-Amin network. Through its close monitoring and the partnerships forged, the network provides valuable information to operators in the grain sectors and administrations, and participates in a regional approach to cooperation for food security in the Mediterranean region and its communities.
MED-Amin innovates
Beyond the information provided by other networks, MED-Amin innovates with: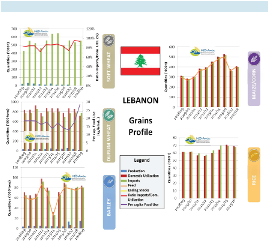 Data on barley markets
A distinction between data on soft wheat and durum wheat markets
Albania, Algeria, Lebanon, Morocco and Tunisia are part of the network (absent from AMIS)
An appropriation of international methodologies through dedicated training (Tunisia, Algeria, etc.)
Free access sharing of most information and results.
---
Challenges of the Mediterranean and of the MED-Amin network
The Mediterranean region in a few figures (MED-Amin, 2020):
13 Mediterranean countries: Albania, Algeria, Egypt, Spain, France, Greece, Italy, Lebanon, Malta, Morocco, Portugal, Tunisia and Turkey are part of CIHEAM and participate in MED-Amin
6% of the world's population (470 million inhabitants, growing rapidly)
50% of world durum wheat production and consumption (38 Mt)
11% of global soft wheat production
29% of world soft wheat imports
17% of world corn imports (particularly for animal feed).
The region of North Africa and the Near East is 60% dependent on international trade (particularly from the Black Sea) for its supply of wheat. This dependence, exacerbated by climate change, accentuates vulnerability to fluctuations in international markets and food vulnerability. Vulnerabilities are difficult to overcome as demand increases, following dynamic population growth.